Encouraging Indonesian "Spiderman" to reach the limits of its capabilities
In the 2022 Asian Games, the Indonesian rock climbing team will rely on the "speed" number to maintain the status of overall champion in that branch. They are targeting a clean sweep of four speed gold medals in the 19th edition of the Asian Games.
This article has been translated using AI.
The following article was translated using both Microsoft Azure Open AI and Google Translation AI. The original article can be found in Mendorong "Spiderman" Indonesia Menembus Batas Kemampuan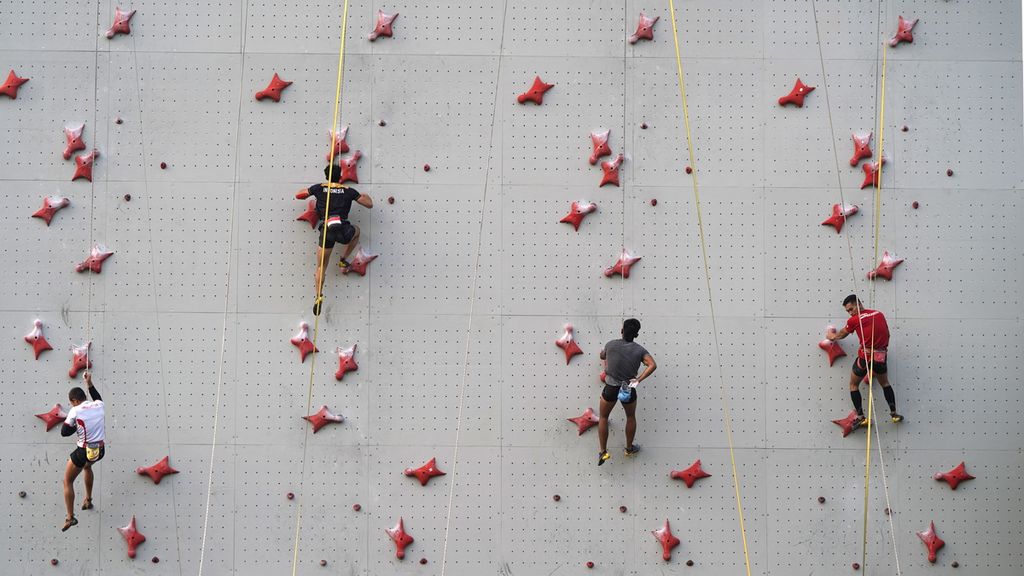 With a series of impressive achievements at international level in the last five years, there is no guarantee that the Indonesian rock climbing competition team can dominate the Hangzhou Asian Games, China, 2022 on September 23-October 8 2023. Therefore, The "Red-White" Spidermans are encouraged to continue pushing the limits of their abilities by being given the high target of wiping out four gold medals in the speed number and sharpening the world time record.
Four male and four female climbers who are projected to appear in the 2022 Asian Games as well as a number of cover athletes stepped towards the speed climbing wall located in the parking lot of the Santika Premiere Hotel, Kota Harapan Indah, Bekasi, Monday (11/9 /2023). After a short warm-up, the climbers were called by trainer Hendra Basir, who sat at a table in front of the climbing wall complete with a pen and book containing a number of names and a column, some of which contained scribbled numbers.
One by one, the climbers appeared half-dead as they attempted to pass through the 20 big holds and 11 small holds scattered from the base to the top of the 15-meter high wall. The results of the test conducted with official race equipment, which consists of a start sensor, time recorder, and electric finish button, were far from satisfying.
Indonesia's star climber, Veddriq Leonardo (26), who holds the world record with a time of 4.90 seconds set at the World Cup series in Seoul, South Korea on April 28, 2023, only clocked in at 5.733 seconds in this round of testing. Veddriq's strongest competitor, Kiromal Katibin (23), who has a personal best time of 4.97 seconds, only registered 6.566 seconds in the same test.
See also: Rock climbers undertake national training ahead of 2022 Asian Games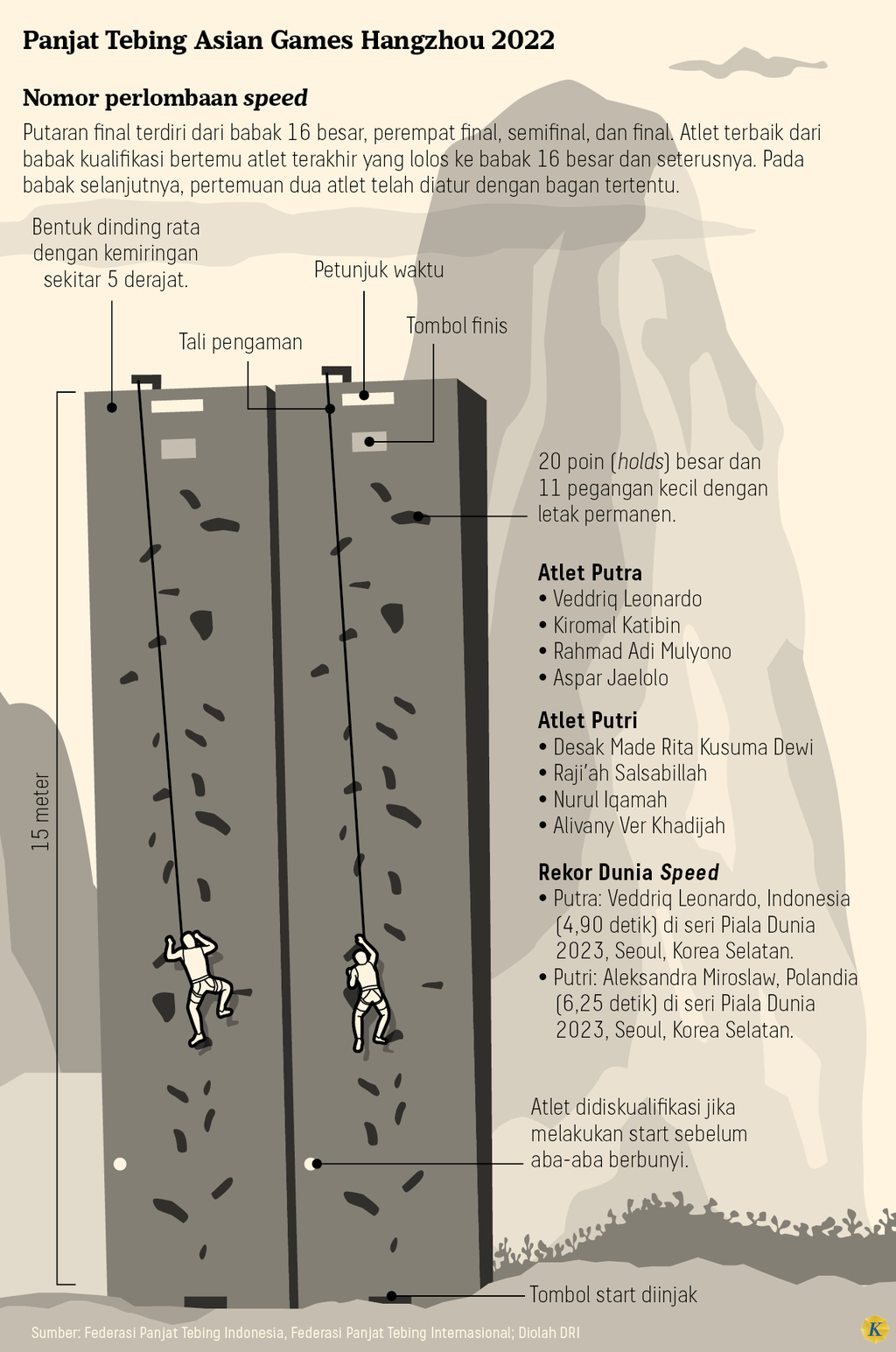 As for the female climber Desak Made Rita Kusuma Dewi (22), who won the 2023 World Championship in Bern, Switzerland with a time of 6.49 seconds, she only recorded a time of 7.567 seconds in this test. In fact, there were climbers who slipped several times, causing their time record to significantly drop.
However, these results do not mean that the performance of Indonesian Spider-Man is declining drastically. Before undergoing the test, they had been conditioned to peak fatigue by doing weight training for approximately 20 minutes in the hotel gym.
"The purpose of this test is to see how we are fighting against fatigue in our pursuit of the best time. If we can climb well even when tired, we hope to record faster times when we are in better shape before the competition," said Katibin after the test, which is only conducted once per athlete."
Fight against gravity
Apart from requiring good mental and skills, Katibin said that physical fitness is the main element in a speed climbing competition. If you put it like this, speed rock climbing is like a 100 meter race in athletics. Both require athletes to increase speed.
Also read: Indonesia targets top 12 with 12 gold medals at Hangzhou Asian Games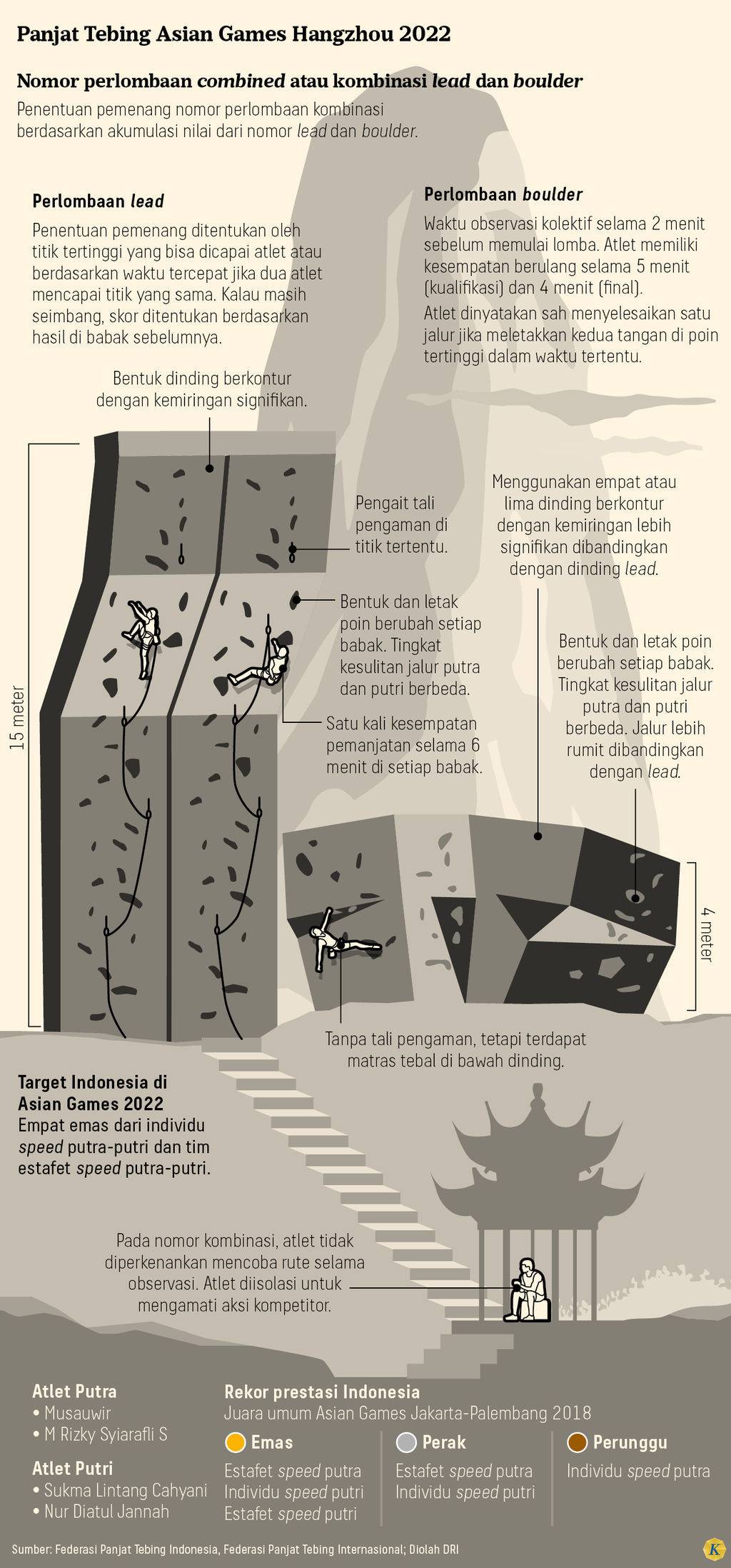 It's just that the level of difficulty speed of rock climbing doubles. Rock climbing speed athletes cannot use gravity to push themselves fast. Instead, they must fight gravity during climbing. The risk is, once they slip, they will fall and not be able to continue the race. "Even if you can continue the race, it is very difficult to catch up with your opponent unless your opponent also slips," said Katibin, who was born in Batang, Central Java, August 21 2000.
It's not surprising that climbers' physical training tends to be very hard. This is what makes their bodies strong and full of muscles like bodybuilders. Along with practicing climbing skills, weight training is part of the daily menu.
Therefore, we are continuously given high targets so that we remain motivated to be the best not only in official competitions, but also in practice.
"Stopping training even just once will cause the athlete's climbing results to decline and it will not be easy to bring them back up. Therefore, we are continuously given high targets so that we remain motivated to become the best not only in official competitions, but also in training," said Katibin.
Don't be lulled
On paper, the Indonesian speed team is superior among Asian teams. At least, they succeeded in bringing the Red-White rock climbing contingent to the title of overall champion of the previous edition of the Asian Games in Jakarta-Palembang 2018, namely with three gold, two silver and one bronze.
Also read: The Men's Team's hopes of going to the 2024 Paris Olympics are not yet closed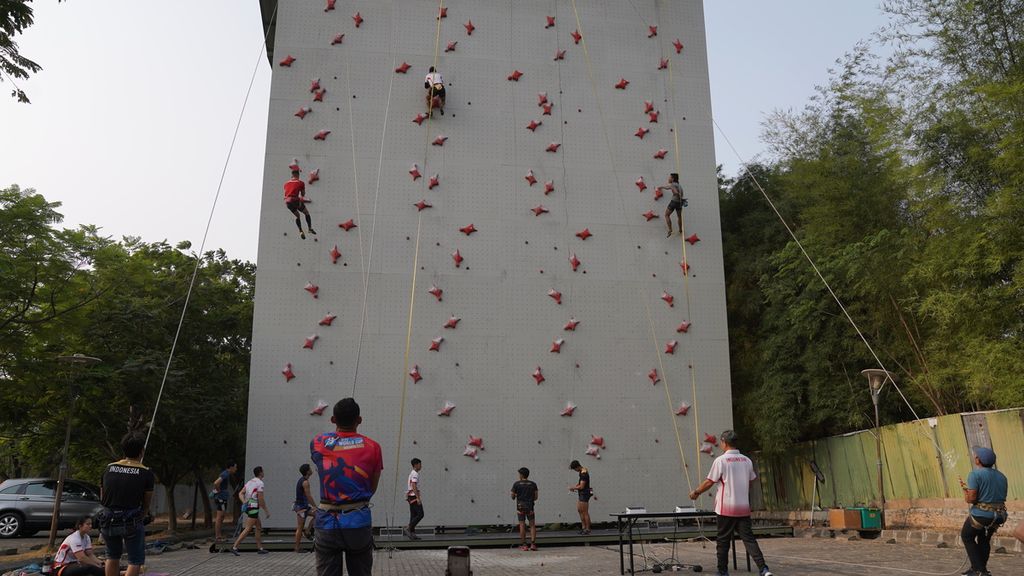 After that, the speed team's achievements skyrocketed. In the last three years, Indonesian male climbers have repeatedly won gold in the World Cup series. Overall, Veddriq topped the final men's speed standings for the 2021 and 2022 World Cup seasons, and Indonesia became the overall speed champion for the 2021 and 2022 World Cup seasons.
Veddriq and Katibin compete in a healthy manner to break world records. Katibin led the way by breaking the world record of Iranian climber Reza Alipour from 5.48 seconds to 5.25 seconds at the World Cup series in Salt Lake City, USA on May 28, 2021. Veddriq briefly broke the record with a time of 5.20 seconds in the same event and day.
After Katibin broke Veddriq's record of 5.17 seconds at the World Cup series in Seoul on May 6, 2022, and sharpened it four times in a row to 5.009 seconds at the World Cup series in Chamonix, France, on July 8, 2022, Veddriq rose to break it at 4.984 seconds at the World Cup series in Seoul on April 28, 2023. The athlete from Pontianak, West Kalimantan, cemented his record at 4.90 seconds in the same event and on the same day.
So far, only four climbers from around the world have been able to clock in a time under 5 seconds. Following Veddriq, Katibin followed suit with a time of 4.97 seconds at the 2023 Cup series in Salt Lake City. Then, Rahmad Adi Mulyono carved out a time of 4.97 seconds at the 2023 World Cup series in Chamonix and Raharjati Nursamsa with 4.98 seconds on the same day and event.
Also read: World Champion, Urges Made Rita to Get Tickets to the 2024 Paris Olympics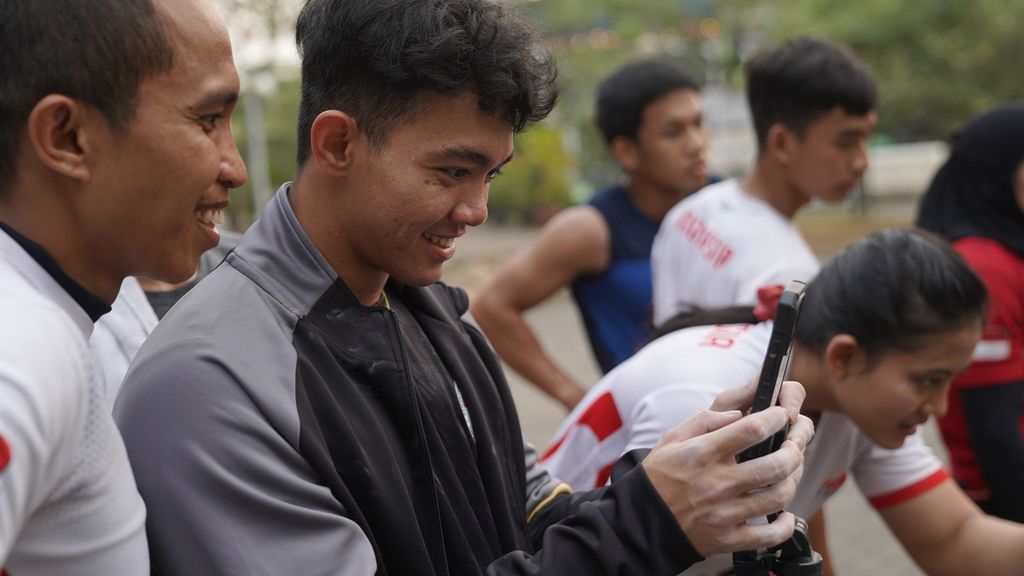 Indonesia has also achieved success in the women's group. Following the era of Aries Susanti Rahayu, who broke the world record held by Chinese climber, Yi Ling Song, from 7.10 seconds to 6.99 seconds at the World Cup series in Xiamen, China on October 19, 2019, the Desak generation emerged. Gradually, Desak's achievements have continued to rise over the past two years, culminating in becoming the world champion in 2023. Thanks to this, Desak became the first Indonesian climber to secure a spot in the Paris 2024 Olympics.
However, Veddriq believes that the Indonesian speed team should not be lulled. On the field, competition between climbers is very tight. For example, Chinese climber Peng Wu is trailing Veddriq and his friends with the best time of 5.01 seconds recorded in the 2023 World Cup series in Jakarta. On the other hand, Japanese and Kazakh climbers in men and South Korean climbers in women are starting to show their great potential.
Kazakhstan athlete, Rishat Khaibullin, even reached the semi-finals of the 2023 World Championship before losing to Chinese climber, Long Jinbao, and falling to Rahmad in the bronze medal match. "We cannot underestimate our opponents, especially China who are competing in their own country. Once we let our guard down, our opponents will surpass us," said Veddriq, who was stopped at the round of 16 in the 2023 World Championship.
According to senior climber Aspar Jaelolo (35), who won individual speed bronze and relay silver at the 2018 Asian Games, five years ago, the Asian speed competition only involved Indonesia, China and Iran. The record times for the best climbers in these countries are still in the range of 6-5.5 seconds. Now, many potential new climbers have emerged from other countries with best times of around 5.5-5.1 seconds.
Also read: Made Rita Urges to Look at the Bright Season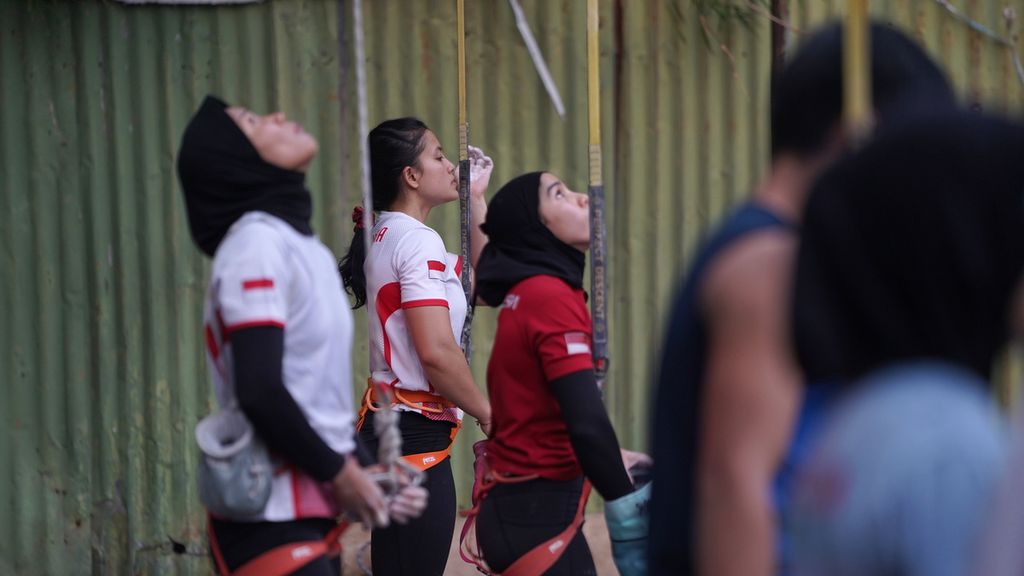 This happens due to the support of information technology which enables all countries to easily learn about the strengths and weaknesses of their opponents. With all the outstanding achievements recently, the abilities of Indonesian climbers are also being monitored, imitated, and improved upon by other countries.
In this way, the position of the Red-White climbers at the top of the elite ranks is never safe. "With the very rapid and dynamic development of speed numbers, we must not close ourselves off from learning new knowledge or techniques and continue to try to push the limits of our abilities," stressed Aspar.
Avoiding the comfort zone
Therefore, Hendra stated that he does not want Indonesian climbers to be in their comfort zones. Apart from undergoing routine training with discipline, Hendra often holds competition simulations that aim to continue to boost the athletes' adrenaline.
In the championship, Hendra does not want athletes to play it safe just to earn a medal. He wants athletes to always try to explore all the best potential they have, even if the risk is starting early and getting disqualified from the race or slipping and ultimately losing faster.
Also read: Rahmad-Rajiah Marry World Cup Gold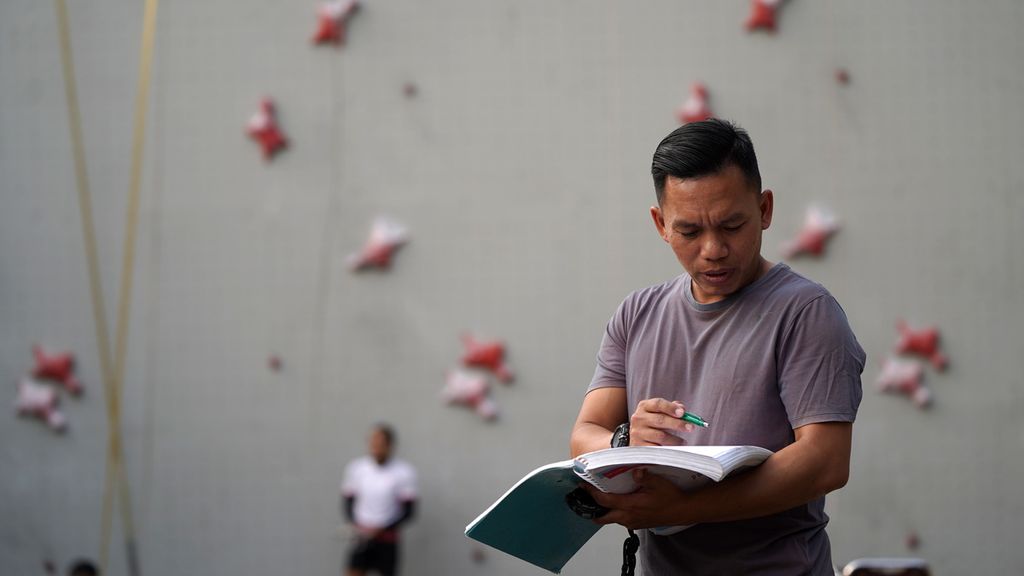 "I prefer athletes failing to achieve medals after attempting to surpass their personal records. It shows courage, ambition, and motivation to continuously improve, which are the main assets in pursuing or maintaining peak performance. Besides, our main target is to achieve gold in the 2024 Olympics," said Hendra.
For Hendra, there are only two possibilities in the speed number, breaking the record or failing. For those who do not have the courage to push the limits of their abilities, the athlete concerned will continue to be far from the record and increasingly attached to failure. This is the background for Hendra setting a high target of winning four gold medals at the 2022 Asian Games and hopes that someone will break the world record again.
Apart from thespeedteam, Indonesia will field two male and two female climbers for the combinedlead and boulder numbers at the 2022 Asian Games. "However, the combination team is only "We are targeting to increase our flying hours to look forward to achievements in the next five years or at the earliest for the 2028 Los Angele Olympics," said the General Secretary of the Central Management of the Indonesian Rock Climbing Federation, Florenciano Hendricus Mutter.
Editor:
WISNU AJI DEWABRATA